Introducing David Lloyd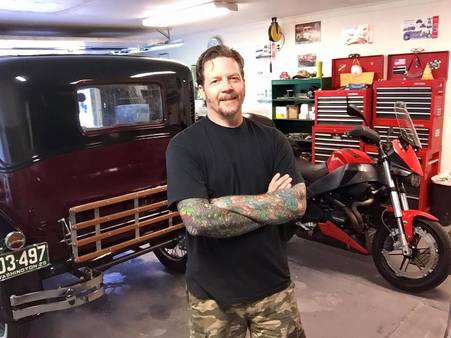 David Lloyd is a pinstriping and sign painting apprentice under Paul Mackie. A Northwest native, David has always been passionate about three things: art, food and music. Growing up he could always be found with pencil and paper, drawing the things he loved, mostly consisting of hot rods, motorcycles and World War I and II airplanes.

​In high school David worked as a draftsman for his father's engineering firm using the old Rapidograph pens on Mylar, where attention to detail was an uncompromised asset to the trade. His artistic talent developed from there into creating his own comic book characters as well as tattoo art and graphic designs. As most boys in their teenage years, David loved music. He has performed on stage and in competitions playing baritone sax in jazz band, singing and playing guitar in his own rock band, and playing on the same stages as many of his musical idols.

Following his curiosity for the culinary arts David moved to Seattle to work as a cook in many of the top restaurants eventually working his way up to becoming an award-winning Executive Chef for a local fine-dining restaurant. His father was an avid car collector and David had a few of his own. They enjoyed working on their cars together and would travel to some of the best car shows in the country.

These car shows were where David found his interest in pinstriping as many of the custom cars, bikes and trucks were adorned with art from some of the best artists of the time. Wanting to get back into the graphic arts and in keeping with the car culture that he shared with his father, David met with Paul Mackie and expressed his interest in mastering the craft that Paul has been a part of for so long.​
---